5. Henry Ford Museum, Dearborn Michigan
                                                                               
With such diverse locations all under the same roof, It's hard to not list this museum as one of the top Michigan locations to shoot pictures indoors. Some of my favorite spots inside include Lamy's Diner, Hero's of the sky exhibit, the train, and of course the many classic automobiles.
4. The Inn at St. John's, Plymouth Michigan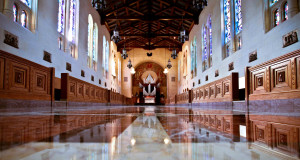 Many people know of the Inn a St.John's for their elegant reception halls, lush golf course's, and beautiful gardens. However, It's a great place to shoot regardless of the season. Indoors, the Inn offers vast location's including an art gallery with curving walls, long glass sided hallways and of course the beautiful chapel.
3. Trapper's Alley, Detroit Michigan
                                                                                     
Trapper's alley is a hidden gem located in the Greektown district of Detroit. It's a quaint multi-floor mall that reflects greatly the history of Detroit architecture. Although this spot doesn't have as many locations as the above, It still is a very suitable place to shoot photo's. The short single hallway mall has a very unique design. The lighting makes for superb shots. I recommend shots from the ground up.
2. GM Renaissance Center, Detroit MI

The renaissance center is obviously a gem on the coast of our beautiful skyline. It comes as no surprise that the interior is as gorgeous as the exterior. The cylinder based architecture provides beautiful curved catwalks as well as great depth of field for photos. Scattered throughout the building you find views of the city, art and incredible architecture to build the perfect backdrop. This is one of my personal favorite spots to shoot in the great state of Michigan.
1. Greektown Casino Hotel, Detroit MI    

Greektown Casino hotel lobby is my favorite place to shoot indoors, especially for brides and grooms. In the lobby alone you will find a beautiful staircase that stretches the room. Once on the staircase you will notice the fireplace, glass chandelier and fine architecture. The lighting and colors that fill this room are incredible to say the least. This is a great spot to have an indoor photo shoot in Michigan.
Thanks for reading, check out our current winter offers on wedding services!
https://falconfilmstudios.com/wp-content/uploads/2017/10/Falcon-Color-Logo-253x300.png
0
0
Derek Gauci
https://falconfilmstudios.com/wp-content/uploads/2017/10/Falcon-Color-Logo-253x300.png
Derek Gauci
2015-01-15 13:39:39
2015-01-15 13:44:42
Top 5 Places: Indoor Engagement Photo's MI