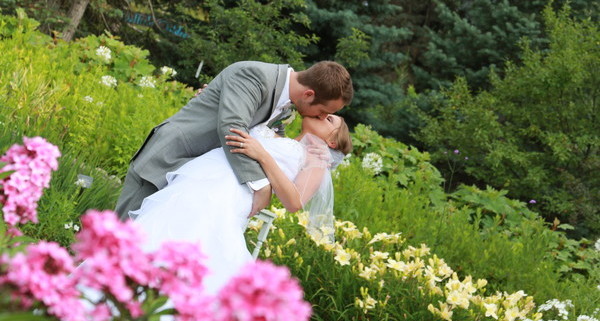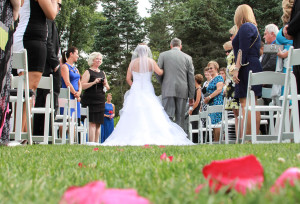 Planning

an outdoor wedding in Michigan can be seen as a challenge. Thanks to our unpredictable weather, committing to an outdoor event is not for the faint of heart. However, by knowing a few simple tips, it can easily be a success!
First and most importantly, be sure to have shelter for your guest's.

You should always have a tent or gathering space that will fit all of your guest comfortably. The best thing to do is have a tent with walls that can drop down to the ground when needed. Even if the weather's bad, good shelter will save the event. You can use the tent as a backup for any planned outdoor activities such as a ceremony. 
Be Sure your vendors are as prepared as you for unexpected weather. Safety should always come first for your guest's and staff. Vendor's such as DJ's use open face electronic equipment. That means if it gets wet it will instantly need to be shut down to reduce risk of shock. The vendor's should all have a plan to keep the gear functioning properly throughout the evening.
Worry about temperature as much as precipitation. 

In the Month's of July and August you can find some real hot day's in Michigan. If you have industrial fans or heater's to keep your tent cool, or warm you will be fine. Also, having good airflow in the tent makes it a much more comfortable environment. With a good temperature inside the tent, you also give your flowers a better shot at lasting throughout the evening. 
Set the tent up a day or 2 early. 

Setting up the tent a day early can effect the cost of your rental. However you may find it worth having the ground nice and dry for your event. If it rains the day before and the tent goes up early the day of, you may find that the sun won't have time to dry the ground. 
Keep restroom's close to the tent. 

Nobody want's to go on a mile long adventure through the woods, in a dress, while it's storming. Keep the bathroom close, and you will keep your guest's happy!
Be optimistic! 

Let's be honest, like Alanis Morissette 

nobody want's it to rain on there wedding day. The best thing to do if it rain's is embrace it. In my opinion, it makes for some awesome pictures and video!  
https://falconfilmstudios.com/wp-content/uploads/2014/09/12.jpg
400
600
Derek Gauci
https://falconfilmstudios.com/wp-content/uploads/2017/10/Falcon-Color-Logo-253x300.png
Derek Gauci
2015-01-20 12:09:26
2018-01-16 19:51:03
Tips for Planning an Outdoor Wedding